We're proud to announce the launch of the new Shopify-powered online store for Duck Creek Decoy Works!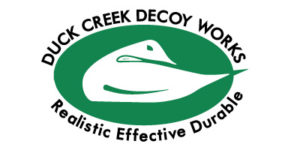 Duck Creek Decoy Works is a Denver-based company which produces advanced motion decoys for use by waterfowl sportsmen. Their first product, The Flashback, realistically simulates the bobbing and feeding appearance of a duck, intended to effectively communicate the message to real ducks that "this area is great, come here!"
The product is already a smash hit with the initial manufacturing run selling out in a little over a week.
Company founder Tyler Baskfield said this of his experience working with Battalion Commerce: "Ben and his crew did an excellent job of both designing and teaching me how to use my website. They respond to requests and questions quickly and are great at explaining the most efficient way to handle, navigate the site. I could not be more pleased and would encourage anyone with little web experience to use them. In a world where great customer service is a lost art, Ben and his crew are refreshing and easy to work with."
For the Duck Creek Decoy Works project, Battalion Commerce supplied the following services:
Shopify Development
Shopify Setup
Responsive optimization
Graphic design & animated gifs
Copywriting
Facebook integration
Facebook marketing
Strategic advisement
Fedex Shipping via ShippingEasy Integration
Battalion Commerce is a full-service digital business development agency which specializes in eCommerce and online marketing based in Denver, Colorado. Battalion Commerce is a member of the Shopify Experts program. Read more about Battalion Commerce's Shopify Development services