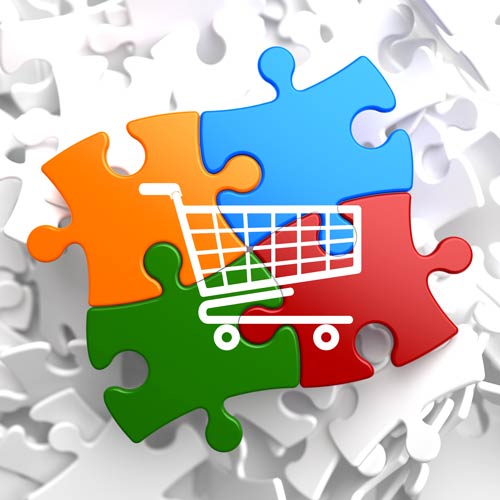 Oftentimes, when first meeting with a new client who is seeking help with an online store, one of the first topics to discuss is which eCommerce software platform to use to build their new virtual business.
Nowadays, nearly all the eCommerce clients we support are using Shopify, Magento, WordPress with eCommerce, or Squarespace/Weebly/Wix. All of these are great platforms for selling things online, but with varying feature sets, costs, and technical caveats, choosing which platform to invest in for your online business can be an intimidating choice.With nearly 20 years of web development and experience using many different eCommerce platforms, we certainly have opinions about which platform is best for the context of each business and it's specific goals.To help new online store owners decide which platform is best for them, we decided to put together a no-nonsense guide to quickly aid in selecting the best eCommerce platform for their business.

Of course, this is just a guide and it can't possibly address every scenario…if you are considering adding an online store to your business, or upgrading an existing one, feel free to get in touch and we'll help you make the best choice for your organization.
On "Platforms"
We're frequently going to use the word "platform" in this post, so we thought it worthwhile to make sure we're on the same page with what it means.
An eCommerce platform is the software foundation for your online store. A "platform" is a base onto which something is built. 
So, Which Online Store Platform Should I Use?
From all our experience building many dozens of online stores, we feel the choice of eCommerce platform basically boils down to this flow chart:

---
More About Each Platform
eCommerce systems can be categorized into two main groups: Those which you install on a server you control (self-hosted), and those which run on somebody else's server (Hosted/SaaS). There are pros and cons to each type, which we will discuss further below.
Hosted/SaaS/Cloud eCommerce Platforms
For most organizations new to eCommerce and even many others who have prior online sales experience, a hosted platform is almost always the best choice. Why? Because a hosted platform almost completely eliminates the technical support needs required of a self-hosted eCommerce system.As a store owner, this means you can spend more time working your business, and less time worrying about server performance, security, upgrades, and scalability.
Hosted eCommerce platforms effortlessly scale with your business; as demand for your store increases, the system automatically manages technical resources to ensure your customers have a consistent, quality experience. You never have to think about it!
Squarespace/Weebly/Wix
Squarespace, Wix, and Weebly are software-as-a-service (SaaS) website platforms which support limited eCommerce functionality
Designed to be easy to use and manage, these platforms are ideal for small businesses who wish to manage their website themselves with a short learning curve. Of course, this simplicity results in numerous constraints; your online store must operate the way the system is designed and customizations/modifications are limited.
These platforms are ideal for businesses with a small catalog and a simple, straightforward online sales approach.
Shopify
Shopify is a Software-as-a-Service (SAAS) eCommerce platform which launched in 2006. Now powering over 300,000 stores worldwide, Shopify is the leading SaaS eCommerce platform in it's class.
Shopify does a fantastic job of balancing power, performance, ease-of-ownership, and a significant level of flexibility. It offers a high-degree of customization and a large 3rd party development community offers thousands of extensions, themes, integrations, and apps to enhance the core platform.
Almost every eCommerce business needs to connect their online store into something else…maybe Quickbooks, or a email marketing tool, or a an inventory management system. Given the market saturation of Shopify, many business application providers already offer ready-to-use integrations into a huge variety of complementary solutions, such as email marketing, social media integration, channel sales, accounting, shipping, inventory management, and more. And, if your business needs to connect Shopify into another system which doesn't already offer an already-made integration, Shopify offers an excellent development API for custom applications.
For these reasons, Shopify is an excellent choice for online store owners who want a powerful and flexible low-maintenance eCommerce site.
Shopify plans typically range from $30-$300 a month. Most stores start on the $30 plan.  The more expensive plans offer advanced features like gift cards, detailed reporting, and real-time shipment carrier quotes.

Battalion Commerce is a Shopify Expert! Find out more about our Shopify development services 
Self-Hosted eCommerce Platforms
A self-hosted eCommerce platform means you own the system, so you have unlimited control over it. While this might sound appealing,  owning the system also means you own all the technical burdens associated with such a system. From server maintenance & optimization, security, backup, custom development, & more, a self-hosted eCommerce system almost always requires a significant volume of active work and associated expenses.
We only recommend self-hosted platforms to organizations which have the resources required to manage them
WordPress with eCommerce
WordPress is a hugely popular open-source website platform. Originally released in 2003 as blogging software, WordPress gradually became popular as the engine for all sorts of websites, including eCommerce. Powering over a quarter of the top ten million websites across the globe, WordPress is the most widely-used website publishing platform in the world, so support and third-party development is widespread and abundant.
There are several popular eCommerce extensions for WordPress, notably: WooCommerce, PrestaShop, and JigoShop. Although both WordPress and the core eCommerce extensions are free, expect to pay fees for additional modules, which are usually necessary for certain payment gateways, features, and integrations.
One of the best aspects of a WordPress with eCommerce website is that your site can be so much more than just an online store; WordPress has thousands of extensions to add virtually any type of functionality imaginable like wikis, social networks, blogs, forums, & many more.
GIven it's popularity, one of the main caveats with WordPress eCommerce is security. WordPress sites seem to be the biggest target for hackers and malicious bots, so special attention must be paid to security in order to ensure the site and it's sensitive customer data does not get compromised. Skigen.Digital is an expert at WordPress security and can help ensure your WordPress eCommerce site is safe and in compliance with payment security requirements.
Magento
Magento, first released in 2008, is an open-source eCommerce platform which works with webservers running PHP and SQL (typically Linux). It is available in two editions, Magento Community Edition (CE) (which is free), and Magento Enterprise Edition (EE) (which requires an annual license and includes additional features for larger businesses, as well as technical support).
A powerful and infinitely customizable eCommerce system, Magento is ideal for businesses who need complete control over their online store system and it's data. All of the source code is accessible and customizable, so any feature imaginable can be added to Magento.
Intended for organizations focused on eCommerce, Magento is a heavyweight system which requires regular patches, advanced server management, dedicated support resources, and proper development practices.
A proper dedicated-server hosting environment is also necessary. Monthly hosting for Magento is a few hundred dollars at minimum and may well exceed thousands of dollars for multiple web servers and scalable environment scenarios.
Magento is a serious eCommerce investment for organizations who require the utmost level of power, control, and flexibility.
---
Which platform generates the highest conversion rate, best SEO, or most awesome website?
The platform itself will not make an online store successful or beautiful. What matters most to the success of an online store is what is built on top of the platform and how the business is promoted.
All of the solutions described above are capable of making an optimized, great-looking, high-converting online store.  Conversely, they are also capable of delivering poor-performing, boring stores. Success is ultimately dictated by the business you build on it!
Conclusion
For the first fifteen years of eCommerce, a self-hosted online store was the only way to play in the big leagues of online shopping. However, operating one often meant a business must not just sell things online, but also build the software development resources and expertise necessary to stay ahead of the competition and the swiftly-moving development of the internet. Not to mention paying oftentimes tens of thousands, to even millions of dollars annually for servers and licensing fees.
Then, next-generation SaaS solutions like Shopify became available offering power similar to a self-hosted platform, but with dramatically reduced technical burden and operating cost. These solutions allow a merchant to focus on selling their products instead of being distracted by security patches, complex upgrades, server performance optimizations, etc. As a result, these platforms have made it possible for even the smallest business to offer an online store delivering a fast, modern, and professional user experience.
For most new online stores, we almost always recommend a hosted solution like Shopify, Squarespace, Weebly, or Wix for their ease of ownership. For certain stores and applications, a self-hosted solution may still be the best approach provided it can be adequately supported by it's owners.
Need Help Developing Your eCommerce Program?
At Battalion Commerce, we specialize in eCommerce and we'd love to help your organization meet its online sales goals. We hope you found this guide useful! Feel free to get in touch; we look forward to helping you with your next eCommerce project!